Junta-se o Laurence Harvey, John Wayne, Richard Windmark, Charles Bronson, Yul Brynner, James Coburn, Clint Eastwood, Henry Fonda, Terence Hill, Steve McQueen, Gian Maria Volonte, Lee Van Cleef e Eli Wallach no mesmo saco e faz-se o mesmo com os filmes, The Alamo (1960), The Alamo (2004), A Bullet For The General, A Fistful of Dollars, For a Few Dollars More, The Good, The Bad and The Ugly, The Magnificent Seven (1960), My Name is Nobody, Once Upon a Time in the West e Starship Troopers e faz-se uma mushup excelente. Pena a inclusão, embora se perceba, de um filme tão rasca como o Starship Troopers, ainda para mais com as duas sequelas incluídas. Vi um bocado do primeiro e chegou-me. Nem teenagers mamalhudas conseguem fazer algo por um filme de série B. Os outros, é claro que já vi todos mais do que uma vez.
Editado e realizado por Fabrice Mathieu.
Assista a Far Alamo.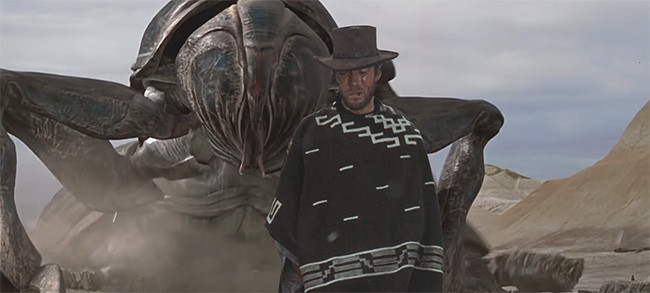 Still frame do filme "Far Alamo"